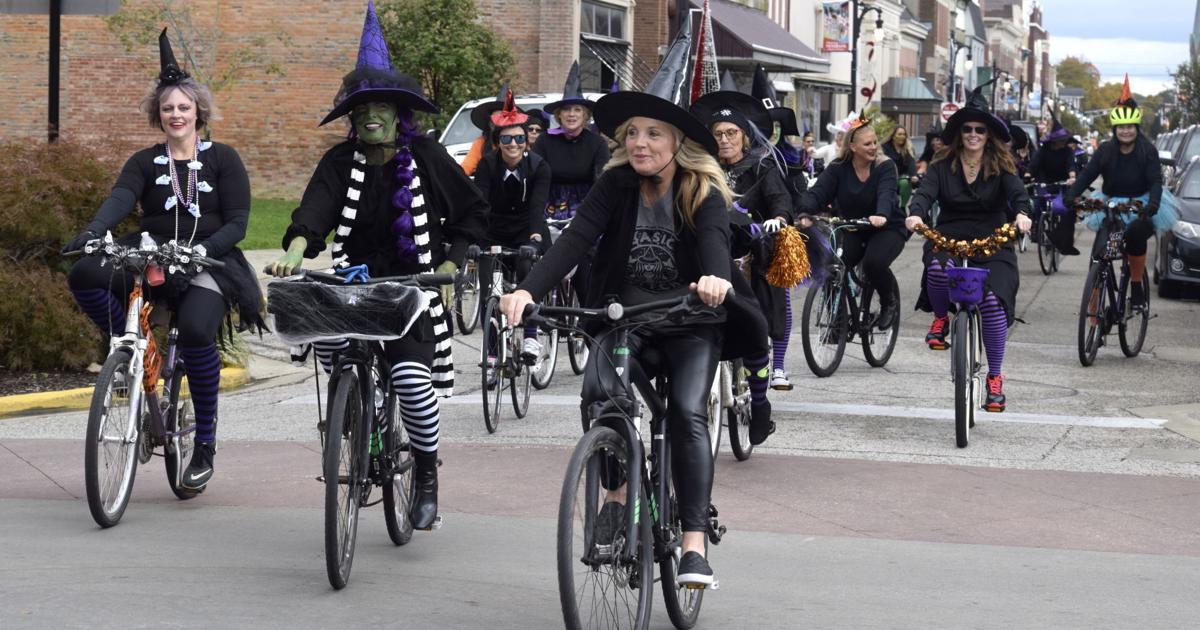 Witches on Bikes back on Saturday |
Swapping their brooms for bicycles, the Witches of Vincennes will soon take off to raise donations for two good causes.
Regina Blinn, Vincennes, never dreamed that next Saturday she would lead a coven of more than 150 witches on bicycles turned brooms.
She is this year's organizer and was one of 32 women who walked around town dressed as witches just for fun last year.
"Because it was such a hit last year, we decided to do the ride as a fundraiser this year," Blinn said. "We got quite a few stares when we drove through town last year. Other people were smiling or honking their horns.
"It was just a fun event."
Proceeds from the Witches' Walk will be donated to the Bon Samaritain Breast Care Center and the Vincennes Parks and Leisure Department. Local businesses have been contacted to sponsor or donate.
Because October is Breast Cancer Awareness Month, donating to the breast care center just seemed appropriate, Blinn said.
"Everyone knows someone, whether it's a family member or a friend, who has been struck down by cancer," she said. "We never know when it might be one of ours. I had a cousin, Matt Bowman, who had breast cancer. We wanted to help the men, women and children in the community.
"It's a good way to help others, get some exercise and have the opportunity to meet new people."
Not to cast spells or sow discord, participants are invited to come for a bike ride through the city, dressed as a witch. The Facebook page, Vincennes Witches on Bikes, already has many posts from its members, enthusiastic cyclists who prepared their unique cackles and practiced a "witch dance" to perform after the ride.
"I just can't wait to get dressed and play dumb," said Meghan Lafferty of Vincennes. "I'll probably wear something similar to last year, but I'm doing it very simply since I'm on a bike.
"I do a little black tutu and black leggings with purple socks to help the outfit stand out," she said.
She, too, is thrilled that this year's Witches' Hike will raise funds for a cause close to her heart.
"Having a family member with breast cancer really touched the house," said. "I was ready to do anything to help."
Designing costumes and decorating their bikes are just the tip of the iceberg for these ladies. Riders can opt for the classic broom look for their bikes, or they can be "spooky" with "cobwebs," skeletons, lights and glitter, Blinn said.
Organizers will also award prizes for 'Oldest Witch', 'Best Costume' and 'Best Cackle', among others.
The witches are set to assemble at Gregg Park, with the ride starting promptly at 2 p.m. The ride will be a leisurely seven miles with two group stops along the way.
All witches will be driven by police car all over the city. Some witches will throw sweets to passers-by watching them pass by and other festivities will continue in the open-air shelter when they return.
"Children from the community can come visit the witches, play with us, and have their picture taken with us," Blinn said. "We will have a photographer and a DJ."
"We'll have costumes of all colors," Blinn said of the witches. "We had a good witch last year who was dressed entirely in white and pink.
"You just don't know what you're going to get until everyone shows up that afternoon."
Witches interested in participating can register for $20 on the day of the event; however, they will not receive a t-shirt.
For those who want to watch, the witches will travel along parts of Washington Avenue, College Avenue, 15th Street and Willow Street. They will also cycle along Main Street to the George Rogers Clark Memorial, then Second Street to Gregg Park.