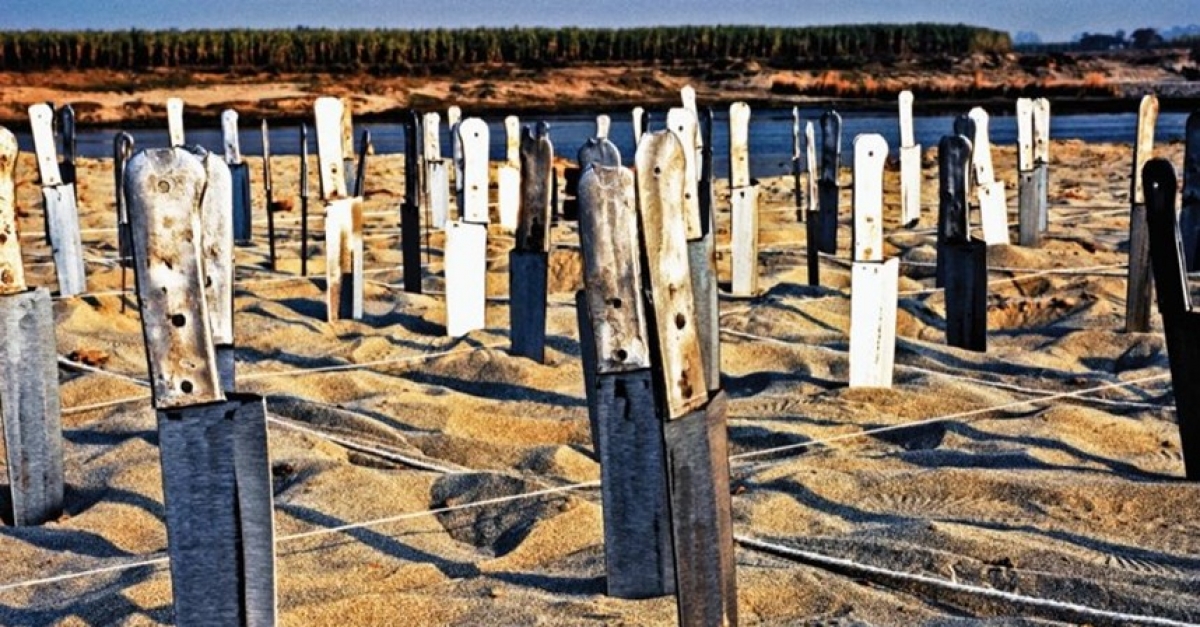 The Smithsonian's National Museum of Asian Art presents "Unstill Waters: Contemporary Photography from India"
The Smithsonian's National Museum of Asian Art will present "Unstill Waters: Contemporary Photography from India", an exhibition that features 29 works by some of the most eminent artists working in India. Through photography and video, these artists highlight India's landscape, both real and imagined, as a powerful way to examine contemporary environmental and social issues of broader global concern. The exhibition will be presented at the Arthur M. Sackler Gallery from December 10 to June 11, 2023, during the centenary– and celebrates Umesh and Sunanda Gaur's donation to the museum's growing collection of contemporary Asian photography.
Visually dynamic in scale and format, the works of "Unstill Waters" offer vivid perspectives on the human relationship to place. Artists Ketaki Sheth and Gigi Scaria turn to the streets of Mumbai and New Delhi as subjects, while the view of the landscape becomes a highly symbolic setting for Sheba Chhachhi. Atul Bhalla and Ravi Agarwal convey the profound importance of water, particularly the enduring cultural connection with the Yamuna River in northern India, its current endangered status, and the relationship between the rivers and the rapidly changing urban life.
'Unstill Waters' completes centenary exhibition "A Splendid Land: Paintings of Royal Udaipur" (19 Nov–14 May 2023). This major survey of 17th- and 19th-century works from Udaipur, India, focuses on landscapes, lake systems and city palaces and includes an ambient soundscape by acclaimed experimental filmmaker Amit Dutta.
"As the National Museum of Asian Art enters its next century, we are even more determined to expand our contemporary collection and bring it into dialogue with objects from Asia's deep artistic traditions," said Chase F. Robinson, Dame Jillian Sackler Director of the Arthur M. Sackler Gallery and Freer Gallery of Art, Smithsonian's National Museum of Asian Art. "We also celebrate the museum as a space where diverse people come together, converse and learn. "Unstill Waters" incorporates all of this and exemplifies our mission to exhibit and interpret Asian art in ways that deepen our collective understanding of Asia, the United States, and the world.
A series of accompanying programs in conjunction with the exhibition opening (details below) explore cultural attitudes towards water and speak to environmental racism, resource stewardship and climate concerns both locally and globally, discussing the parallel histories of the Yamuna River and the Anacostia River in Washington, DC Speakers include an artist featured in "Unstill Waters," professors of environmental and global studies, and staff from Smithsonian's Anacostia Community Museum.
"Umesh and Sunanda Gaur have collected with the aim of supporting collaborations with scholars and students, and helping others discover India through the extraordinary work of modern and contemporary artists," said Carol Huh, Associate Curator of Contemporary Asian Art. "It is an honor and a pleasure to follow their generous example through this exhibit and related programs."
Events
Yamuna/Anacostia: rivers and environmental racism
Saturday, December 10; 1-3 p.m. ET
Hybrid: online and on site in the Freer Gallery of Art
This program will draw on key themes from 'A Splendid Land' and 'Unstill Waters'. Artists and scholars will explore the parallel histories of the Yamuna and Anacostia rivers, contemporary community efforts to address damage to rivers and the communities that depend on them, and the role of image-making as a tool for environmental justice .
Speakers:
Ravi Agarwal, artist, environmental activist, writer and curator
Katrina Lashley, Program Coordinator, Anacostia Community Museum
Anne Rademacher, Professor of Environmental Studies, New York University
Bishnupriya Ghosh, Professor of English and Global Studies, University of California, Santa Barbara
Artist Talk: Ravi Agarwal
Saturday, December 10; 4 p.m.
On site: Arthur M. Sackler Gallery
Curator Carol Huh and artist Ravi Agarwal will discuss the works in "Unstill Waters".
Additional modern and contemporary art spaces coming in summer 2023
Building on the groundbreaking legacy of contemporary exhibitions – the museum was the first in the United States to have a program dedicated to contemporary Asian art – the National Museum of Asian Art will launch new spaces dedicated to contemporary art modern and contemporary from summer 2023. New acquisitions are continually being added to the collections to showcase the changing visual cultures of Asia in the 20th and 21st centuries.
About the Smithsonian's National Museum of Asian Art
The Smithsonian's National Museum of Asian Art is committed to preserving, exhibiting, researching and interpreting art in ways that deepen our collective understanding of Asia and the world. Housing more than 45,000 objects, the museum is home to one of the largest and most comprehensive collections of Asian art in North America, with works dating from ancient times to the present day from China, Japan, from Korea, South Asia, Southeast Asia and the Islamic world. Its rich collections bring the arts of Asia into direct dialogue with an extensive collection of 19th and early 20th century American works, providing an essential platform for creative collaboration and cultural exchange between the United States, the Asia and the Middle East.
Beginning with a 1906 gift that paved the way for the museum's opening in 1923, the National Museum of Asian Art is a premier resource for visitors, students, and scholars in the United States and around the world. . Its galleries, labs, archives, and library are located on the National Mall in Washington, DC, and are part of the world's largest museum complex, which typically brings in more than 27 million visits each year. The museum is free and open to the public 364 days a year (closed December 25), making its exhibits, programs, learning opportunities and digital initiatives accessible to a global audience.
# # #
SI-363-2022