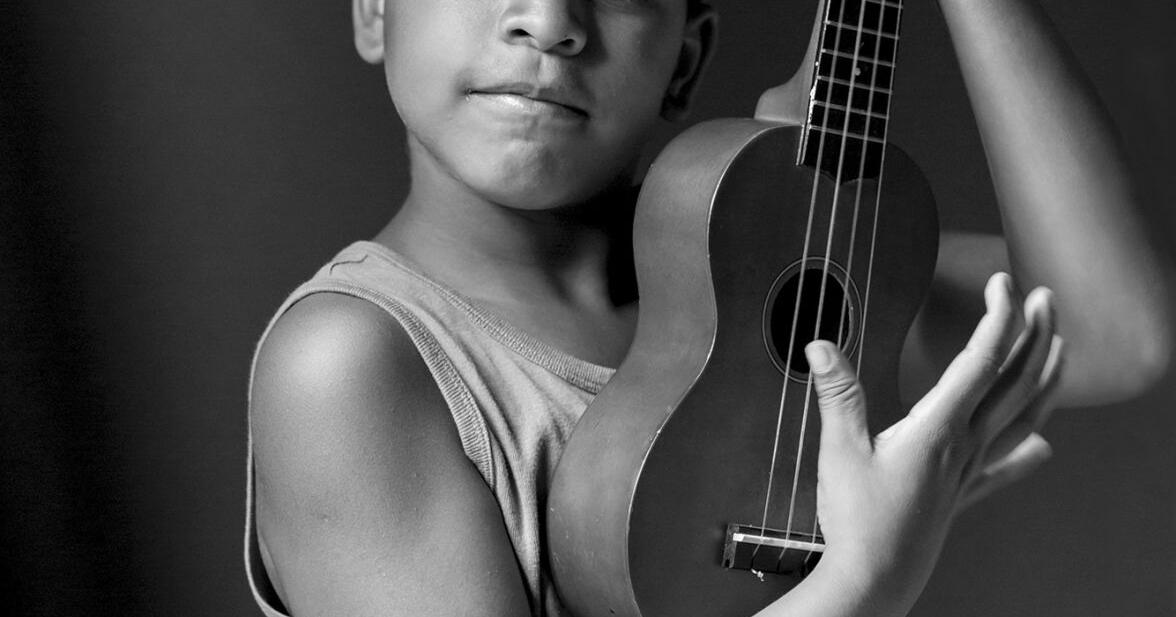 The beautiful photography of Maundy Mitchell | Lake style
PLYMOUTH – They look at you with serious, thoughtful or smiling expressions. Some are seated and others stand, with a favorite object nearby, offering a clue as to who that person might be and their place in the world.
These are the people captured in the photographs of Maundy Mitchell, in her studio in Plymouth. Mitchell believes so deeply that "people are beautiful," she trademarked the phrase. The philosophy is not just to photograph a pretty face or a slender body, but rather to find and see the real person in front of the camera.
Growing up in Newport, New Hampshire, Mitchell says the community is: "A wonderful little industrial town with a thriving arts community. My favorite hangout as a kid was the Richards Free Library in Newport. It's in an old mansion with a glorious staircase and beautiful rooms, filled with books and art. To the rear of the property is an old carriage house converted into an art studio and art gallery; I still go there when I'm in town.
"When I was nine years old, I was in the library and came across a book on how to make a pinhole camera. I took the book home and made a camera out of black cardboard, masking tape, foil, and rubber band. My mother found old darkroom equipment at a garage sale and my grandmother, who was an artist, helped me set up a darkroom in her bathroom. It was exciting to develop that first roll of film from a camera I made.
Mitchell majored in aviation at Hawthorne College and English and special education at Keene State, before earning a BA in writing and literature from Vermont College of Fine Arts. Later, she obtained a certificate in photography from The Photography Institute and trained with international master photographers.
Mitchell photographs people in a unique way, with the intention of giving her clients deeply personal photographs that define their true selves.
Mitchell's work is exhibited locally, nationally and internationally. She explained, "When I have time, I look for exhibits that are relevant to my work. Previously, this meant sending physical works around the world, or sometimes printing and framing them on location. Due to the pandemic, some exhibitions are now online. I currently have work exhibited in several exhibitions, including "HerStory", an international online juried exhibition featuring over 50 female artists from around the world. I submitted a 5×7 tintype portrait titled "Portrait of HwaKyung", the result of a session for renowned photographer HwaKyung Chang. She traveled to New Hampshire from South Korea, and I did a tintype session for her last summer. Almost all of the work that I submit for exhibition is work that I have created for clients, as opposed to personal work. When I created HwaKyung's portrait, we were talking about the roles of women in society, around the world, and how when we reach a certain age, we start to become invisible. At the last second, I asked him to put his hand on half of his face and I exposed the plate. She and I love the result.
Mitchell is a portrait photographer and said, "I offer The Portrait Experience which can include pets, photo shoots and tintype sessions. Sometimes I travel and set up a team (hair and makeup artist, assistants) in places like Paris, London or Prague but I haven't done that since the pandemic. Apart from the occasional international session, I work in my studio.
Currently, Mitchell's photographs can be seen in an international juried group exhibition titled "In Color" at the Decode Gallery in Tucson, Arizona (https://maundymitchell.com/in-color-exhibit-in-arizona/) ; a group exhibition "From Isolation to Community" at PSU's Silver Center for the Arts; a national juried exhibition entitled "The Best of Women" Stola Contemporary Art, Chicago, Illinois (https://maundymitchell.com/the-best-of-women-exhibit-in-chicago/) and in an international juried exhibition , collective exhibition entitled "HerStory", Manhattan Arts International (https://manhattanarts.com/herstory-2022-exhibition-of-art-by-women-artists/).
Mitchell is excited about her new studio at 62 Main Street in Plymouth, a street-level storefront. "It's in the historic Fox Block building, and it's easier for a lot of people to get to and find it." The space has high ceilings, which gives an airy feel and can accommodate lighting structures. "This will be my working photography studio, and a pop-up exhibition space for me and other artists.
Mitchell's process puts clients at ease and reflects his philosophy. "My favorite quote is from Henry David Thoreau, who wrote, 'Could a greater miracle take place than to look through our eyes for a moment?' I think it's about connection and empathy, and that's the foundation of what I do.
"A lot of things go into planning a portrait experience. I meet people first, I ask questions, like how they want to see themselves and who they want to be photographed with. There is no one who is not "photogenic". The key is to slow down and notice everything, like the way someone walks into a room, how their mouth moves. I talk to people and lead all the time. I can do it because I have studied art, expression and body language a lot. During this time, she also listens to the client's concerns about her own image. "For example, if someone is concerned about wrinkles, I will lighten them up in a different way than someone who loves their wrinkles."
"Another element of the Portrait experience is a mood board. I create a private online mood board and assign assignments to my clients. The first task is 'free pinning'. They do a search on Pinterest. They enter any search term related to portraits, like "family portraits. They should save or "pin" any portrait they are drawn to for some reason. It doesn't have to be a photograph – it can be a painting or a sculpture They are not allowed to question why they like it I am adding to the mood board, after speaking with my client I am not yet questioning my choices nor the their.
She continued, "A week or two before their session, clients can come into the studio for a wardrobe styling session. They bring whatever they think they're wearing and are invited to try on one of over 150 dresses and gowns from the studio's wardrobe." She designs a session informed by everything she knows about them, including the how they hope to display or store the resulting images." I could design a session that includes black and white to color, there could be movement, joy, photos with a family member, better friend or pet."
When asked what his most interesting subject was, Mitchell replied, "I did a year-long personal project in 2014 called 'The Unseen.' I photographed residents of the Belknap County Nursing Home. Those who could talk to me often told me stories. Some were amazing, and you would never know it if you didn't take the time with them. I think that's true for everyone. When I think of the "most interesting", I don't think of just one person, but of this place, with around 90 inhabitants.