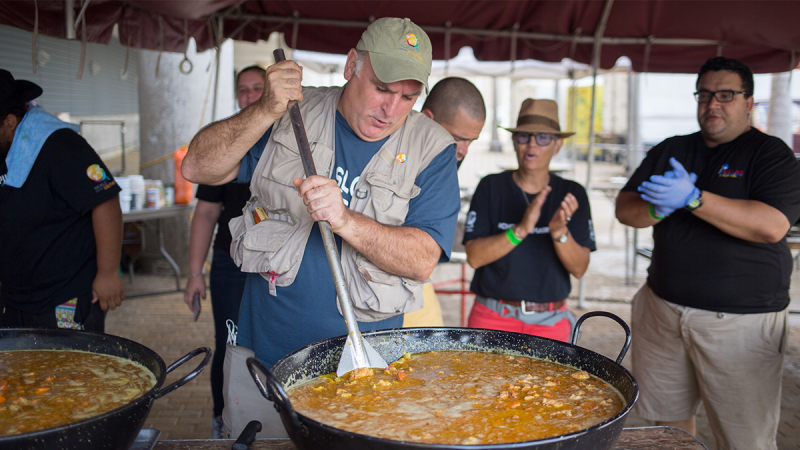 Points North Institute's Shotwell Drive-In returns for 3rd season
The Points North Institute has announced the launch of its third season at its Shotwell Drive-In. Built in 2020 in response to the COVID-19 pandemic to safely bring the community together to experience cinema, the Shotwell Drive-In will showcase films throughout the summer leading up to the London International Film Festival. Camden at its Rockport location just off Route 1.
The 2022 Shotwell Summer Series will kick off on June 2 with a special screening of the new documentary film We feed people National Geographic's latest film and Oscar-winning director Ron Howard. The film highlights celebrity chef José Andrés and the incredible mission and evolution of his non-profit organization World Central Kitchen over 12 years, from a group of grassroots volunteers to becoming one of the most reputable humanitarian aid workers in the disaster relief industry.
This special screening is co-presented by AIO Food Pantry, who will be on hand to collect non-perishable food items.
Shotwell's opening weekend will continue with Everything everywhere all at once June 4. Directed by Daniel Kwan and Daniel Scheinert, collectively known as the Daniels, the film is a hilarious, heartfelt sci-fi action-adventure about an exhausted Chinese-American woman who can't seem to finish her taxes. , according to Points North, in a press release.
The 2022 Summer Series will screen everything from documentaries to beloved classics every Thursday and Saturday, with several special preview screenings and other special events dotted throughout the season. Last year, The Shotwell hosted a premiere screening of the Oscar-winning film CODA months before the release of its platform. The Shotwell will also be a main location for the 18th Annual Camden International Film Festival, which will take place in person September 15-18 at theaters in Camden, Rockport and Rockland, Maine, and online September 15-25.
Several exciting new documentaries will be screened in June, including the latest film by Oscar winner Andrea Arnold, COW, an intimate portrait of the life of a dairy cow; The sanctity of spacewhich follows climbers/filmmakers Renan Ozturk and Freddie Wilkinson as they retrace the steps of pioneering mountaineer and aerial photographer Bradford Washburn, and the Bitterbrush, the latest feature from CIFF and Points North Fellow alum Emelie Mahdavian, which revisits the western genre and invites us to rethink the challenge of nomadism from the point of view of two young women.
In honor of Juneteenth, two new titles will be released: The award-winning documentary Baby, a raw and poetic self-portrait in which Rebeca "Beba" Huntt, a young Afro-Latin woman born in New York, stares at historical, societal and generational trauma; and, Neptune Frostthe wildly inventive new musical sci-fi film, directed by Saul Williams and Anisia Uzeyman, which has taken the prestigious film festival circuit by storm.
The Adventures of Priscilla, Queen of the Desert will be screened in honor of Pride Month. The film centers on three showgirls (Terence Stamp, Hugo Weaving and Guy Pearce) resplendent in flamboyant ball gowns, gazing out over Australia's vast red desert for the dream of a lifetime; a four-week cabaret engagement in Alice Springs.
"We are delighted to reopen our Shotwell Drive-In for the summer 2022 season, and we are grateful for the opportunity to continue to share great cinematic work with our community in a safe and exciting way," said Ben Fowlie, Executive and Artistic director of the Points North Institute and founder of the Camden International Film Festival.
"The Shotwell remains a beacon and a reminder that the show must go on as well as a way for us to thank this community for supporting the work we are doing throughout these years of uncertainty," Points North said.
The Shotwell Drive-In is located at 40 West Street in Rockport. Tickets are $20 per vehicle and are now available online. Picnics are encouraged and restrooms are available on site. To see the full schedule or to purchase tickets, visit www.pointsnorthinstitute.org.