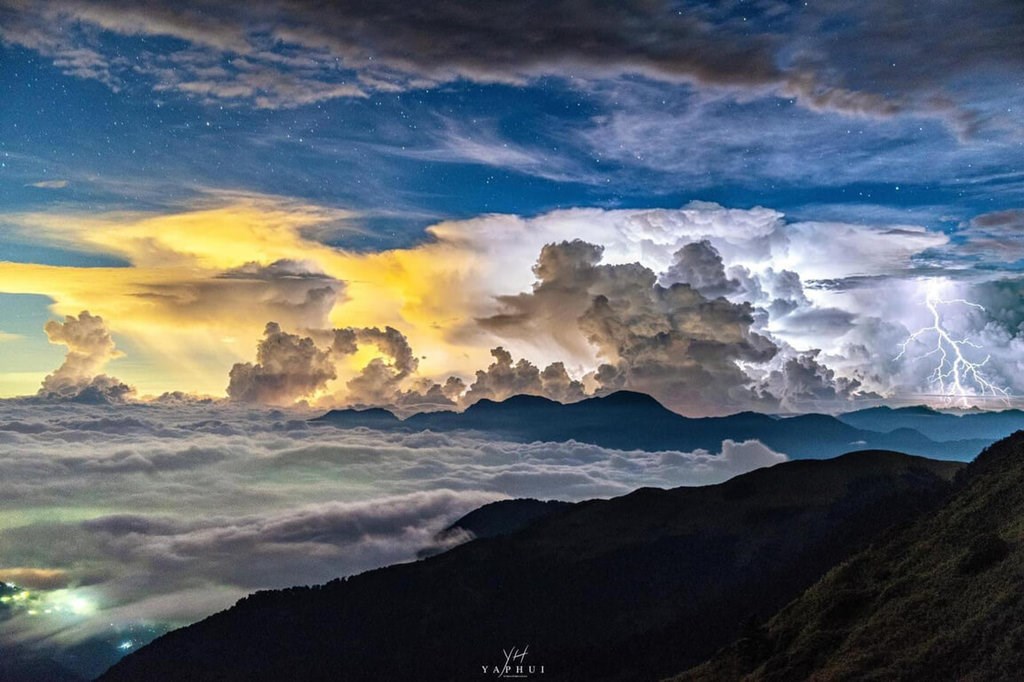 Malaysian documents Taiwan with time-lapse photography
Taipei, Aug. 21 (CNA) Malaysian photographer Phong Yap Hui (馮業輝)'s latest time-lapse video "Taiwan II" featuring beautiful scenery across Taiwan is his way of expressing his appreciation for his Taiwanese fans and the country where he studied several years.
Watch his five time-lapse videos on Taiwan on Phong's Youtube channelincluding Taiwan II, released on August 12, the beauty of the island is palpable even through a monitor.
The high-resolution videos document the 25-year-old photographer's long journey through Taiwan since arriving in the country to study in 2015.
Speaking to CNA, Phong revealed that he came to Taiwan to enroll at National Chin-Yi University of Technology seven years ago to study electrical engineering.
Although his major had nothing to do with photography, Phong shared that his first foray into the field came when he was assigned to take pictures at a social event organized by the engineering department. school electricity.
He said that since immersing himself in photography he got deeply involved in it and started researching the art form while taking odd jobs here and there just to save enough to upgrade the tools of his new love.
The photographer said he was inspired after watching "Beyond Beauty: Taiwan from Above (看見台灣)" by renowned documentary filmmaker Chi Po-lin (齊柏林) as well as the works of renowned Taiwanese time-lapse photography maestro Louis Chen (陳志通).
The two deceased masters inspired Phong to record his time in Taiwan through time-lapse photography, Phong said, allowing him to create memories and works he could treasure.
"I didn't just want to come to Taiwan to study and end the experience banal," Phong said. "I wanted to leave behind something different."
During the four years of his university life in Taiwan, Phong visited various cities and counties carrying more than 20 kilograms of photographic equipment to climb mountains and visit the coast.
The amount of material he accumulated allowed him to create time-lapse videos to put on his Youtube channel, starting with three "Timelapse Taiwan" episodes that were uploaded in 4K UHD.
The videos included famous landscapes in Taiwan such as the sea of ​​clouds atop Hehuanshan and sunrises at Longpan Park in Kenting and Sun Moon Lake.
According to Phong, the creation of Timelapse Taiwan literally happened by accident.
Phong said he was involved in a car accident where he knocked out three teeth during the summer between his sophomore and junior year of college.
Phong said he had to be bedridden for three weeks as his family in Malaysia pressured him to sell his equipment and give up photography out of anger and concern.
Upset and with nothing to do, Phong said he then felt the urge to compile the documents he had collected for more than a year into video form and upload them to the internet.
To his surprise, Phong's videos quickly went viral on Taiwan scooter travel Facebook pages, so much so that he caught the attention of Taiwanese and Malaysian media who eventually put his family members on the hook. comfortable and convinced them to support him in pursuing his dream of photography. .
Following its success, he decided to re-edit his previous material and re-edit it in a higher resolution, Phong added.
Shortly after, before leaving for New Zealand to continue his studies, Phong released "Taiwan", which was uploaded in 8K at 60 frames per second and attracted 2.57 million views.
Phong said praise from Taiwanese for documenting the beauty of their island made him promise to return to Taiwan from New Zealand in 2021.
After spending the past year and a half traveling across Taiwan and taking photos, Phong released "Taiwan II" in 8K 60 high dynamic range on August 12.
While a few of the scenes were taken from older material, the majority of Taiwan II provides viewers with new images from around the island that Phong spent his last voyage capturing, such as the luminescence of fireflies and fireworks around Taiwan.
Phong even said that in the years he spent around the island shooting, he had practically circumnavigated the island a hundred times and covered more than 100,000 kilometers, including climbing. from Hehuanshan Mountain no less than 200 times as it was his favorite place to shoot. .
He added that following recognition of his work by the city and county governments, he was able to quickly access areas requiring special permission, such as Heping Island Park in Keelung, to quickly capture scenes.
However, Phong added, while his Taiwan alma mater helped him obtain a visa during the ongoing COVID-19 pandemic, the short duration of that visa forced him to extend it seven times, which put him at risk. left at some point on the brink. deportation.
Phong said that luckily he was able to get a proper work visa in February to allow him to work in Taiwan for an extended period without worries, adding that he wanted to capture as much of the beauty of the island as possible.
"Loving Taiwan is not a slogan," the photographer said, "but an action to take."