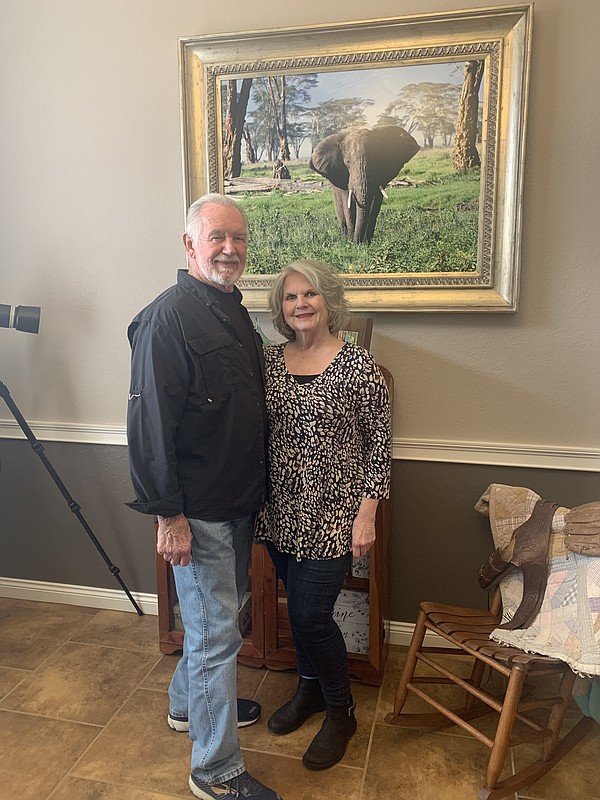 Local photographer spends his retirement hunting wildlife with a camera
TEXARKANA, Texas — The lure of glaciers and wildlife draws local photographer Larry Terrell to Alaska at least twice a year.
Terrell and his wife Patti have visited Alaska many times, sometimes several times a year, and their next visit is already planned.
"We have a trip to Alaska booked for March," Larry Terrell said. "The Eagles are more active when it's cold."
Larry Terrell has been interested in photography since he was a young boy experiencing his first Kodak Brownie.
After their marriage in the early 1980s, the Terrells owned and operated a photography business in Texarkana for more than 25 years. They have photographed weddings, portraits of the elderly and all types of photos. Most of the time, they operated this business in addition to their full-time job. He worked at Day and Zimmerman and she worked at Red River Army Depot.
"It was basically having two full-time jobs and sometimes not having a day off," Patti Terrell said.
Retirement has given Larry Terrell the freedom to photograph the wildlife he loves.
"He can now do what he loves, which is traveling and photographing wildlife. He particularly loves birds, eagles being his favourite, but he has pictures of many different animals," Patti said. Terrell.
The wildlife photos come from several different continents. His travels have taken him from Kaktovik, Alaska, Tanzania, Africa and places in between. He returns to Kachemak Bay in March for his annual eagle photo shoot.
Larry Terrell has also traveled once to Africa and several times to China.
He and his good friend and fellow traveler Wesley Self traveled to Africa for a safari. They were able to see and photograph all the wildlife they hoped to see.
"It was quite an impressive journey," he said.
A framed portrait of an elephant from the first trip hangs in the Terrell's den.
"That one is still one of my favorites," said Patti Terrell.
The elephant was the matriarch of a group they saw on their safari. She approached the jeep the men were in.
"She was pretty close. We stayed in the vehicle," Larry said.
During a trip to China, Larry Terrell and Self took photos from a hot air balloon. They landed in a rice paddy and were able to take candid portraits of the locals.
Patti was apprehensive about her husband aboard the hot air balloon.
"But he came back," she laughs.
Several framed portraits from trips to China hang in their living room.
She traveled with him to take pictures in Cuba.
"At first I didn't want to go to Cuba, but it was an amazing trip. I love trips to Alaska," she said.
A close encounter with a bear was a bit scary. "The guide said it was rare to see a bear on the trail, but we did see one. I was taking pictures and walking backwards the whole time," Larry laughed.
Larry is about to turn 79, but hopes he will have many more trips in the future.
A sign in the couple's den reads 'I haven't been everywhere but it's on my list'.
"That's our motto," Patti said.
To see more images, visit www.journeysbylarryterrell.com.