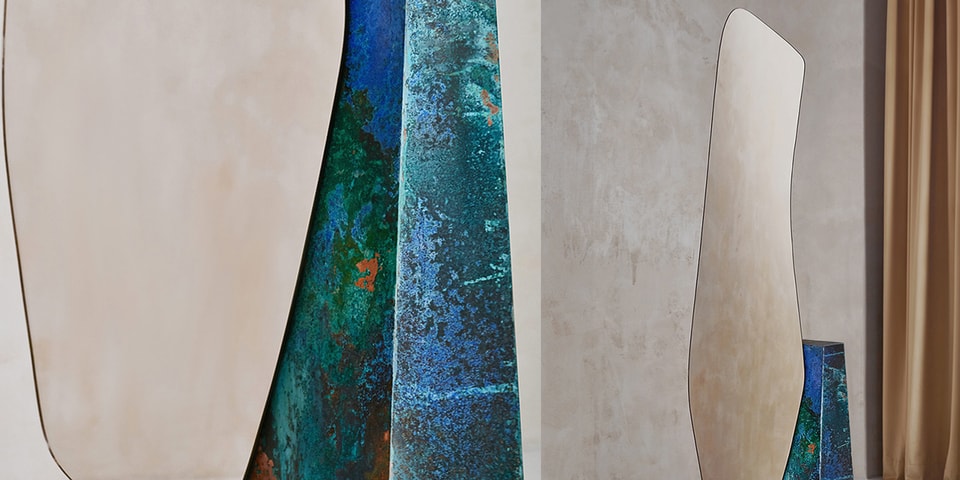 Lake mirrors are based on aerial views of the water
The Ukrainian brand Noom has called on the skills of French designers Maryna Dague and Nathan Baraness for a new collection of mirrors, which reflect the shapes of bodies of water seen from above.
Simply named "Lakes", the new collection features five pieces – each featuring a unique curved profile, which the designers borrowed from the shapes of different lakes. They also wanted to juxtapose the two parts of the mirror and did so using distinctly different shapes: one fluid and soft, the other very straight and heavy in appearance. As a result, the mirrored surface is then paired with thick slabs of different materials including brass, copper, marble, wood, and onyx.
About the collection, the pair say:
"We are fascinated by natural materials, such as wood, stones and metals because of their amazing natural patterns and their colors echoing the reflections of the liquid forms of mirrors.

Moreover, these materials work perfectly with the flowing lines of the mirrors, creating an eye-catching structure.
The sober style of the collection is typical of the respective aesthetics of Dague and Baraness. The duo work both independently and together on collections, often drawing inspiration from a shared love for travel and the natural world around them.
Lakes mirrors are available for purchase on the Noom website, with prices ranging from €550 (approx. $561) for a small mirror with a wood veneer slab, to €5,760 (US$5,882) for an onyx standing mirror.
In other design news, luxury textile brand CC-Tapis worked alongside Apartamento Studios, photographer David Luraschi and screenwriter Efthimis Filippo to create a cinematic campaign for its latest collection.