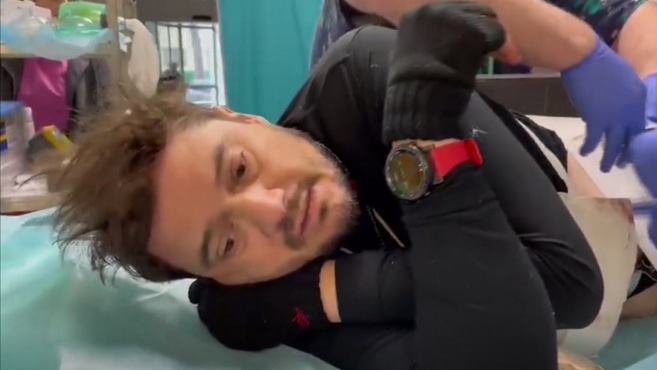 How Brent Renaud was killed: The moving testimony of the photographer who accompanied him
you.S. journalist Brent Renaud was killed by Russian forces in Irpin, Ukraine, Kiev region police announced on social media on Sunday. Juan Arredondoa World Press Photo award-winning Colombian photographer, was with Renaud at the time of the attack.
On Twitter, Kyiv region police identified Brent Renaud like the 50-year-old American journalist who was killed. Police released a photo of his body and his US passport as evidence, along with a photo of a press badge from The New York Times with his name on it.
An assistant to the Ukrainian Interior Minister Anton Gerashchenko said in a statement that Renaud "paid with his life for attempting to expose the insidiousness, cruelty and callousness of the aggressor," according to a New York Times report.
Testimony of a Colombian photographer on the death of Brent Renaud
Juan Arredondowinner of the World Press Photo, was with the American documentary filmmaker Brent Renaud, who died in the attack. In a video captured by a reporter in a hospital, Arredondo gave details of the last moments of his friend's life.
"We crossed the first bridge at Irpin. We were going to film all the refugees leaving. We got into a car…someone offered to take us to the other bridge and we went through a checkpoint, and they started shooting at us. Then the driver turned around and they kept shooting…and there were two of us. My friend is Brent Renaud and they shot him and left him behind," Arredondo told Italian journalist Annalisa Camillim, as he was being treated in a hospital bed.
The reporter asked Arredondo on Renaud's last moments: "I don't know. I saw that he had been shot in the neck. And we separated."
What was Brent Renaud doing in Irpin, Ukraine?
Juan Arredondo worked with American director Brent Renaud, a renowned American documentary filmmaker who worked for several media, including the New York Times.
However, although he was wearing a New York Times wristband at the time of his death, a newspaper spokesperson said he was not on a mission for them.
The city in northern Ukraine Irpinon the outskirts of Kiev, has been the scene of heavy Russian shelling in recent days and has suffered extensive damage, the Kyiv Regional Government reported Friday.