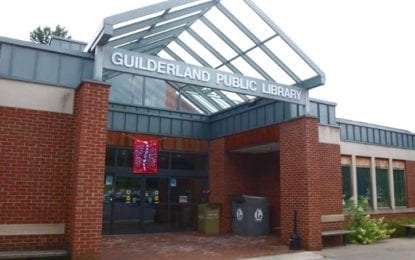 Guilderland Public Library News: Summer Reading is coming to an end – Spotlight News – Home of The Spot 518
Oe end the summer reading in style with an undersea jamboree for the whole family on Wednesday, August 24, from 4 p.m. to 7 p.m.
This fun event, held in our backyard Literary Garden, will include crafts, music, games, activities and snacks. Please register on the Events tab of guilderlandlibrary.org, then stop by when it suits you.
All ages: Be sure to register all of your "Oceans of Possibilities" readings in Beanstack by Wednesday, August 24 at: https://guilderlandlibrary.org/adultsrp for adults and https://guilderlandlibrary.org/srp for children and adolescents.
Closed Labor Day weekend
GPL will be closed from Saturday, September 3 through Monday, September 5 for Labor Day weekend. Online resources are always available at guilderlandlibrary.org, as well as car charging stations, parking lot Wi-Fi, the small free library, and our book donation bins in the side parking lot.
Congressional Democratic primary vote
Early primary voting will take place in the Helderberg hall until Sunday 21 August. Polls are open:
Saturday and Sunday: 9am-5pm
Mondays and Wednesdays: 12 p.m. to 8 p.m.
Tuesday, Thursday and Friday: 9am-5pm
The primary election will take place on Tuesday, August 23, from 6 a.m. to 9 p.m. For more information, visit: https://www.albanycounty.com/departments/board-of-elections.
GPL podcast: how did you find it?
We're not ready to say goodbye to summer yet! For the latest episode of our monthly podcast which comes out on Friday. On August 19, librarians Kathleen Tyrrell and Kristina Ronald cover tips for keeping kids reading, plus a look at the museum pass. Listen on all major platforms and contact us with your feedback at: [email protected]
Movie Night: Sonic the Hedgehog 2
Come and chill with us at the library for a good old-fashioned family movie night! We're screening the 2022 movie "Sonic the Hedgehog 2" (rated PG) on Monday, August 22 at 6 p.m.
Call to sellers
We are looking for vendors for an outdoor fall market on Sunday, October 9, 10 a.m. to 2 p.m. All handmade products, small batch product producers and artisans are welcome! The cost is $25 (payable by check); the deadline for booking is Sunday. Sept. 25 Please contact Natalie Hurteau for more information: [email protected]
The power of more
Journalist Gianluca Russo, author of the critically acclaimed book The Power of Plus: Inside Fashion's Size-Inclusivity Revolution (and also a Guilderland High School alumnus), will be here on Wednesday, September 7 at 6:30 p.m. to talk about his book with the Times Union moderator and reporter Steve Barnes. Over the past three decades, plus size fashionistas have created a market worth over $21 billion. The Power of Plus follows the evolution of the plus size fashion boom, examining how female body image has changed and how plus size fashion is integral to the future success of the industry. No registration is required for this conference and book signing.
Golden age
The recent filming of HBO's "The Gilded Age" in Troy has sparked renewed local interest in this time period. On Thursday, September 8 at 6:30 p.m., Kathryn Sheehan, Rensselaer County and City of Troy historian, will give an illustrated lecture on how Troy's 19th-century architecture became an integral backdrop for this series. acclaimed Julian Fellows. Kathryn worked with scouts and production designers to help ensure a historically accurate reproduction of this era, incorporating major players representing both 'old' and 'new' money. Kathryn will also share some intriguing behind-the-scenes stories that happened while filming the first season. Please register on the Events tab of guilderlandlibrary.org.
General informations
Contact us at 518-456-2400 or [email protected]
—Lianne Nicholson