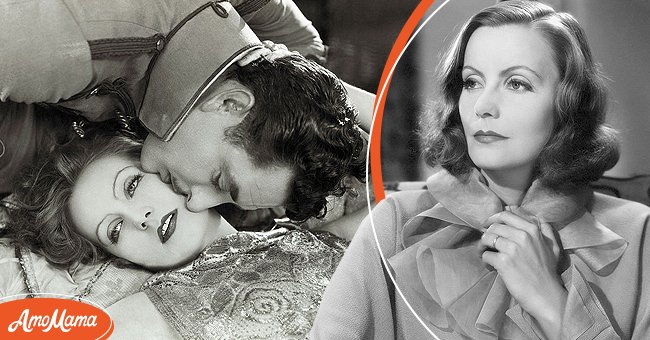 Greta Garbo's love letters to women suggest she hid her sexuality and lived a life of lies
Swedish-born American actress Greta Garbo has lived a lonely life and has never been married. However, she did have a romantic relationship with other women, two of whom exchanged several letters which have now been in the media.
Greta was a Swedish-born American actress who portrayed tragic characters in her films and is still considered one of the greatest female stars in classic Hollywood cinema.
She loved to be alone and was never married. However, it was revealed that Garbo was bisexual and exchanged letters with his lovers. Learn more about her.
START OF GARBO'S LIFE AND CAREER
Garbo was born in Stockholm, Sweden on April 15, 1905. Her father, Greta Gustafsson, was a traveling laborer. As a result, she grew up in poverty in a Stockholm slum.
Garbo was working as a clerk in a department store when she met Erik Petschler, a director, who gave her a small role in the 1922 film "Luffar-Petter".
She studied at the Royal Dramatic Theater in Stockholm for two years (1922-1924). In 1924, she played a major character in "The Saga of Gosta Berlin". It was the director of the film, Mauritz Stiller, who gave it the name Garbo.
In 1925, Stiller won a contract from Garbo with Metro-Goldwyn-Mayer (MGM), granting him an entry into Hollywood. MGM boss Louis B. Mayer was initially unconvinced of Garbo's talent. However, she left studio executives in awe of her first American film, "The Torrent".
Mayer was convinced of Garbo's talent and got him to sign an exclusive contract with a raise in his salary. Subsequently, she starred in popular romantic dramas like "Flesh and the Devil", "Love", "A Woman of Affairs" and "The Kiss".
Garbo quickly became a big star and became of public interest thanks to his incredible talent and good looks. She starred in many other films, including "Mata Hari" and "Queen Christina" of 1932, released in 1933.
Both of these films were popular and also somewhat outrageous because of the frank way they dealt with eroticism and bisexuality. In the 1930s she starred in many other films including "As You Desire Me", "The Painted Veil", "Anna Karenina" and "Ninotchka".
World War II contributed to the end of Garbo's career as his films were more popular abroad than at home. In addition, the markets for American films were shrinking in European countries at this time.
MGM executives reportedly tried to end Garbo's career by casting her in a movie they knew wouldn't do well, "Two-Faced Woman," in 1941. However, she didn't leave Hollywood. with disgust after the movie.
She was almost convinced to return to the film industry twice, but ultimately decided to retire permanently. His decision only contributed to his enigma and his cult.
She lived the rest of her life privately in New York City and made virtually no public appearances. Even when she received an Honorary Oscar in 1955, she did not show up at the event.
ROMANTIC AFFAIRS AND LOVE LETTERS FROM GARBO
Throughout her life, Garbo was never married and had no children. However, that didn't mean she wasn't involved in relationships.
The actress had public relations with George Schlee, a fashion designer, and conductor Leopold Stokowski. Besides them, she also had private relationships with Lilyan Tashman, Louise Brooks and Mercedes de Acosta.
Of all of Garbo's connections, his soul mate appeared to be Swedish actress Mimi Pollak. Pollak was a simple-looking Jewish girl from Hammarom in Varmland.
Garbo would have been the dominant partner in their relationship. They stayed close for 60 years and exchanged long series of letters, cards and telegrams.
In 1993, some of the letters Garbo sent to Pollak were auctioned off. In 2005, Pollak's correspondence was published in honor of Garbo's centenary. In most of these correspondence, Pollak and Garbo made no secret of the fact that they were once an object.
Those close to Garbo considered many of his letters to Pollak to be too revealing. They desperately wanted to hide his bisexuality and never made these letters public.
In the book "Greta Garbo: A Divine Star", it is revealed that the Academy class photograph taken in October 1922 showed how much Garbo and Pollak were in love with each other.
All of the other students in the photo smiled and faced the camera. However, Garbo only looked at Pollak and they held hands.
Years later, this segment of photography was cut and appeared in newspaper and magazine articles. However, when they did, there was no indication that the segment was part of a larger photograph and featured ten other people.
It was also revealed that Garbo's nickname for Pollak was Mimosa of his first name. Meanwhile, Pollak called him Gurra, a short form for Gustav.
There were many other letters from Garbo to Pollak which exposed their secret love. In response to an earlier post after she and Pollak haven't seen each other for a while, Garbo wrote that Pollak's letter sparked a storm of nostalgia in her.
In another letter, she wrote that she kept thinking about her lover and thinking that she would meet her anytime in the hallway.
When the celebrity forced the lovebirds to go their separate ways, Garbo wrote that she dreamed of seeing Pollak and finding out if she still cared about her. In this letter, she describes herself as Pollak's former bachelor and concludes by expressing her love for him.
After Pollak married Lavender and wrote to tell Garbo that her marriage was going well and that she was pregnant, the latter responded.
In her letter, she said that they could not help their nature as God had created it. She added that she always thought they belonged together. When Pollak gave birth to her son, Garbo wrote to her, telling her that she was incredibly proud to be a father.
Besides his close relationship with Pollak, Garbo also shared a romantic lesbian relationship with Mercedes de Acosta. Like Pollak, she also exchanged letters with de Acosta.
In 2000, the lesbian affair of women letters was exhibited at the Rosenbach Museum and Library in Philadelphia. They consisted of 55 letters, 17 cards and 15 telegrams.
By Acosta bequeathed correspondence to the museum but stipulated that they should not be made public until she and Garbo have been dead ten years.
By Acosta love a lot of women, especially Garbo. All she wanted was Garbo to be. Garbo also loved Acosta until she stopped doing it.
In the book "Loving Garbo: The Story of Greta Garbo, Cecil Beaton and Mercedes de Acosta", the author Hugo Vickers wrote on the loves of Garbo.
In the book, Mercedes' description of the six weeks she spent with Garbo was revealed. De Acosta said she was lucky to have had those six weeks with Garbo and said it was the perfect six weeks in a lifetime.
During those weeks, there was no second of harmony between her and Garbo. During this time, she observed Garbo closely and described his legs.
She said Garbo's legs were tanned while his skin had a golden tint. The flock of tiny hairs growing on his legs was also golden. De Acosta further described her lover's legs as classic and unique, adding that they had the shape seen in many Greek statues.
Garbo never ran out of male suitors during his lifetime. At least two men, Swedish publisher Lars Saxon and American silent film star John Gilbert, have proposed to him three times.
However, in a letter she wrote on MGM stationery and obtained by the Postal Museum, she told Saxon that she would likely remain celibate her entire life. She added that "Woman" was such an ugly word.
Garbo finally kept his word and never married until the end of her quiet and lonely life. She died on April 15, 1990, at the age of 84.