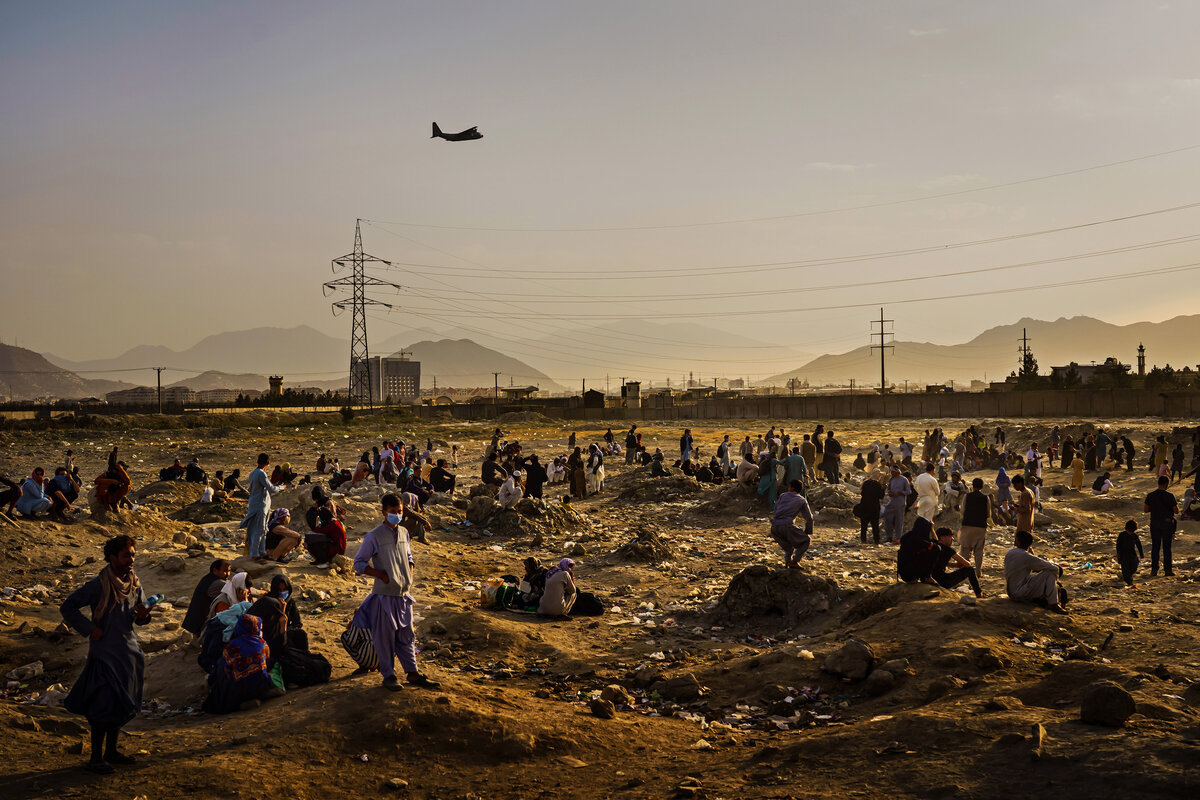 Experiential learning launches careers and 'permission to embrace the unknown'
Marcus Yam / Courtesy of the Los Angeles Times
A military transport plane flies overhead as Afghans hoping to leave the country wait outside Kabul airport on August 23, 2021. Since the Taliban's takeover of Afghanistan in the early As of August, more than 120,000 people have been airlifted out of Afghanistan in one of the largest mass evacuations in US history.
For those who love metrics and jargon, national higher education experts say students in activity-based programs score up to 20% better. If you're looking for a slam dunk data point on the power of experiential learning, check out the 2022 Pulitzer Prize results.
The Los Angeles Times' Marcus Yam has won major photo awards this year, including a Pulitzer Prize — a professional pinnacle like an Oscar in movies or an MVP in sports — with more danger. Yam's Pulitzer-winning portfolio documented the chaotic US exit from Afghanistan, where the Taliban brutalized it.
A hands-on, transformative experience at Ohio University, Yam said, "gave me permission to embrace the unknown." Yam remembers a year of immersion in the hamlet of Shade, Ohio. As a student at the School of Visual Communication, he drove a jeep into the unincorporated community south of Athens to compile his photographic essay for professors Terry Eiler and Stan Aalst.
"That experience at Shade laid the foundation for my career," Yam said. "I felt like I was liberated. It gave me the confidence to go anywhere.
Born in Malaysia in 1984, Yam nearly dropped out of high school to get into sports gaming. He earned a degree in aerospace engineering from the University at Buffalo in 2006. When Yam migrated to photography, he was accepted in 2007 into a "boot camp" program at Ohio University designed for mid-career switches.
A globe-trotting writer and photojournalist, Yam's 2022 awards included:
Since 1976, 84 alumni, students, and faculty have won or contributed to teams that have won at least 55 Pulitzer Prizes.
The student media experience prepared Matt Zapotosky, 2022 Pulitzer winner, BSJ '08. "In many ways, I really learned to be a reporter at the Ohio University Post," he said.
Zapotosky was part of the Washington Post team that won the Pulitzer Prize for Public Service for its coverage of the attack on the US Capitol on January 6, 2021.
Higher education experts have long touted the power of experiential learning across multiple disciplines, in addition to education based on "knowledge transfer". Hands-on experience is especially relevant in communications careers, as employers want to see portfolios, published work, and highlight snippets.
A proud heritage
Chuck Scott, MSJ '70, the Navy-trained photographer who co-founded what is now Ohio University's School of Visual Communication, was an experience evangelist who launched hundreds of careers. May 9, 2022, when the Pulitzer Prizes were announced, was another milestone in this long legacy.
In a break from the norm, the Pulitzer Prize Board awarded two prizes for Breaking News Photography: Yam for poignant images from Afghanistan and Ohio University alumnus Drew Angerer, BSVC '11, and his colleagues from Getty Images for coverage of the January 6 uprising.
Angerer recalls the inspiring resumes of professors at Ohio University.
"Between Pete Souza, Marcy Nighswander and Jenn Poggi – I had them all as instructors, and they had all worked in Washington at various times in their careers – it was definitely something I was interested in and wanted to try," said said Angerer.
Photographer Amanda Voisard, BSVC '02, was inside the Capitol on January 6, 2021; his work was part of the Washington Post's Pulitzer package.
David Swanson, BSJ '88, was a Pulitzer finalist for reportage photography with a Reuters photo team recognized for his climate change images. Swanson's photo showed a fire train battling the Dixie Fire along tracks over a bridge in Plumas National Forest, California on July 15, 2021.
Swanson's award-winning career — including 34 years at the Philadelphia Inquirer, where he was part of the team that won a Pulitzer Prize for Public Service in 2012 for a series about school violence — began on campus with an experience at the Post, taking pictures for the University and a job at Wilson's Camera store on Court Street.
The Ohio University College of Communication was founded in 1968 by World War II correspondent John Wilhelm, a peer of journalist Walter Cronkite. As dean of the university, Wilhelm sent Ohio University journalists abroad for internships with top professionals.
One such foreign news intern was Laura Landro, BSJ '76, who recalled the trajectory from Athens to an internship in London at McGraw-Hill World News, pointing her towards business journalism.
"I had barely passed Economics 101 in college," Landro wrote in his 1998 book about surviving cancer. "Suddenly I found myself reporting on the oil industry, metal trading, nuclear power plants and petrochemical trading. Surprisingly, I found that I really liked it.
The sink or swim internship experience in London helped launch Landro's award-winning 35-year career at the Wall Street Journal. Today, Landro is a benefactress of The Post, run by students at Ohio University, where she worked before her internship in London.
Experiential learning on media platforms is common. Ethan Sands, BSJ '21, has worked at WOUB, The Post, and Southeast Ohio Magazine and also completed a podcasting internship in Washington, DC as part of the Scripps Semester in DC degree program.
After graduating in the spring of 2021, Sands completed a sports internship at the Los Angeles Times, worked for a USA Today Sports affiliate in Monroe, Louisiana, then joined MLB.com in April 2022 to cover the Braves. from Atlanta, visiting teams and minor league prospects.
"I wouldn't be anywhere near where I am now without" hands-on experience, mentors and internships, he said.
The Scripps College of Communication sponsors hands-on learning in Washington, DC, Los Angeles, and New York. More than 60 Ohio University students have interned at the Miss Universe organization in New York, including Meg Omecene, BSJ '16, who experienced crisis communications work in 2015 She was hired by the Miss Universe PR agency after graduation.
"Three years after graduation, I was hired to be the communications manager for Miss Universe," said Omecene, now senior director of corporate communications at VISA.
After graduating this spring, Annie Fink, BSC '22, joined a talent agency in Los Angeles. Fink, of Ashland, Ohio, "come comfortably" into her fast-paced job in Hollywood due to her college participation in the OHIO-in-LA program and faculty that enhanced her interview skills and resume. (over 350 students attended OHIO-in-LA). -LA in eight years). Additionally, Fink had experience at WOUB and the 48-Hour Shootout on campus.
Ohio University students gain campus experience at WOUB, The new policy, Variant Magazine, Southeast Ohio Magazine, The post office, Backdrop Magazine, Yarn MagazineBrick City Records and a national public relations chapter of the Public Relations Student Society of America.
Brick City Records is operated by students from the School of Media Arts and Studies who work with musicians to provide recording, promotion, distribution, publicity and concert booking services.
"Brick City gave me an experience that transferred directly into my day-to-day professional life in the music industry," said Nashville songwriter-producer Marcus Meston, BSC '17.
Ohio University's award-winning speech and debate team helped launch lawyers, judges, and business leaders — and the voice of Bart Simpson, Nancy Cartwright. During her sophomore year at Ohio University, Cartwright placed fifth in the national competition with her speech "The Art of Animation".
Premonitory experience.
As Bart would say, "You're the smartest, you get it."
About Ken Klein
An award-winning student journalist, Ken Klein earned a BSJ degree from Ohio University with a direct appreciation for experiential learning. He was associate editor of the independent student newspaper The Post (1975-1976) and interned at the Cincinnati Enquirer, the Palm Beach Post and the Associated Press in Tel Aviv. He is an Assistant Research Professor at Scripps College of Communication.
Klein worked for Gannett-owned News-Press in Fort Myers, Florida, and the Associated Press in Tallahassee, Florida, before joining US Senator Bob Graham's staff in 1987 in Washington, DC. He was press officer, legislative director. , and chief of staff to Senator Graham, who has never lost a statewide election. In 2001, Klein joined the National Trade Association for Outdoor Advertising to lead federal industry advocacy. Widely published and quoted, Klein has also served as an expert witness on First Amendment issues. In 2021, the outdoor advertising industry inducted Klein into its Hall of Fame.
He was honored by the Director of the FBI (2011 Community Leadership Award) for building an innovative and effective public-private partnership to assist law enforcement. In 2019, Ohio University recognized Klein as an Outstanding Alumnus of the Federal Government, noting his long service on the Dean's Advisory Council of the Scripps College of Communication, his efforts to build the university's profile, and his support for interns at Ohio University in Washington, DC.