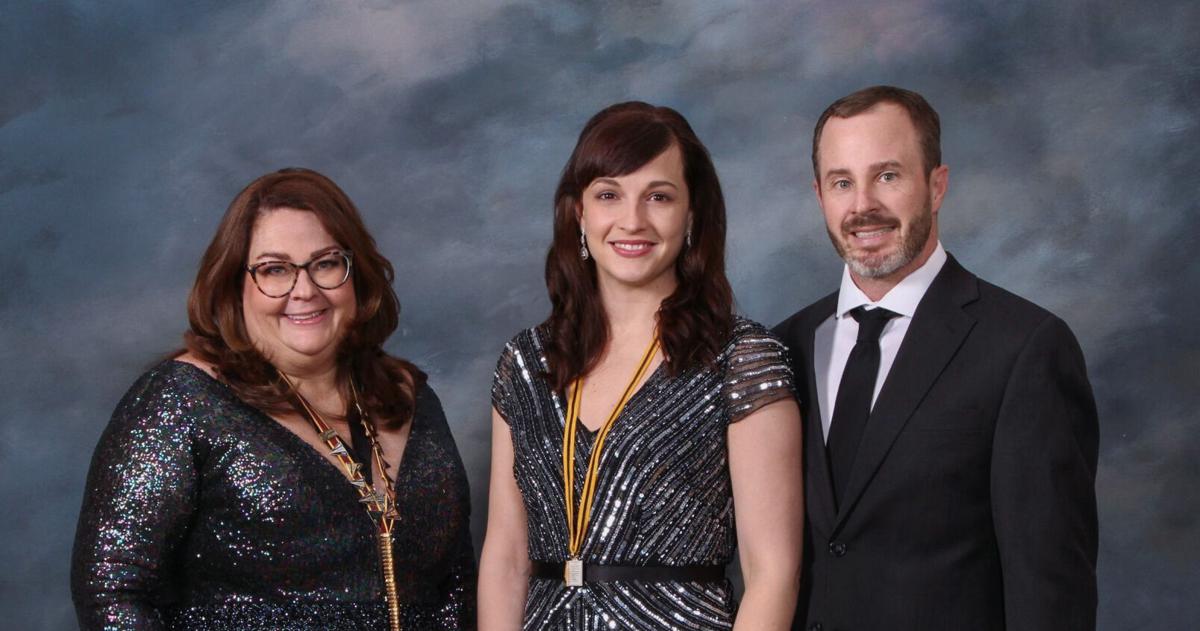 Columbus Photographer Receives Degrees and Renovates His Business | Local
These two years have been busy for Susanna Poeffel. From earning two master's degrees from the Professional Photographers of America (PPA) to buying a business and major renovations, Poeffel has made strides.
The first of those accomplishments, Poeffel earned an MFA in photography and an MFA in wedding photography in January at National Harbor in Maryland. The first degree took him four years to complete while the second took three.
"You have courses that you have to take. You have to enter their print contest, which is very difficult, and you have to pass. So you have to get as many honors through a print contest. And then you also have to give back to the industry, you have to serve in your state or nationally," Poeffel said.
Poeffel completed the degree requirements while raising three children and working as a full-time photographer. And holding these two degrees is no small feat either. This year, Poeffel was one of 114 recipients to receive the master's degree in photography and one of 13 to graduate in wedding photography. Introduced in 2019, the Masters in Wedding Photography is only held by 16 people worldwide.
"I remember…reading how to become a licensed photographer and thinking, 'Well, that's never going to happen to me in small town Nebraska. I'm too busy raising kids, I would never do something like this," she said. "Then one thing led to another and there I was going through the stage and I was getting one master's but I was getting two."
At the January convention where she received her diplomas, Poeffel also received a gold medal for her work in the 2021 International Printmaking Competition. Three of her entries were nominated for a Grand Imaging Award. Only 2% of the 5,000 images submitted each year are received for this distinction. His work will be published in the PPA's Imaging Excellence Collection book for 2021.
Poeffel credited hard work and God's influence in his success, noting Colossians 3:23. Her husband, Jeremy, has also been her main supporter, she added. As part of the graduation ceremony, the graduates chose a sponsor to walk across the stage with them. Poeffel was her husband.
"He was by my side at the first stage, allowing me to work those long hours, and then quit his job and accompanied me on set and helped me carry my equipment and helped me when I'm stressed out from computer work," she added.
Jeremy Poeffel noted Susanna's dedication to the field of photography. The PPA is a non-profit trade association with state affiliates; she is part of the Nebraska group through which photographers can mentor themselves and provide educational opportunities.
"She worked very hard for it (the degrees), it's not something that happens overnight, obviously," he said. "With his help from other photographers who have gone down this path, I think it's really essential not only to become a great photographer, but you have to have other people who have been there before you."
Susanna Poeffel said she was one to put her heart into everything she did; she's not one to settle for mediocrity.
"If you're not trying to grow and improve, how are you really living?" she says. "For me, it was just a challenge to see if I could get it and be the best photographer I can be for my clients and set an example for my kids to chase the goals, that they don't. don't be afraid."
Poeffel began photographing weddings in 2005. She opened a studio in downtown Columbus in 2011. Just two years ago, Poeffel and her husband purchased Goc's Photography after Tom Goc retired.
The couple have completed major renovations at their new business – Goc's Creative Images, 571 S. 33rd Avenue in Columbus. The COVID-19 pandemic presented several challenges, including finding contractors for the work. She had a full-time business and her husband worked full-time elsewhere. He quit that job and now helps Goc full time.
Those who visit Goc's now will notice that the old garage is now the entrance to the business. The building's main entrance, which once served as the entrance to the photography studio, is now the family's private residence.
"It was a challenge," Poeffel said. "It's such a good feeling to finally close those front doors and say, 'OK, now we've got our home back. ""
An open house will be held in the spring to show the community the renovations.
Goc's Creative Images provides senior, family, commercial, wedding and sports photography to the Columbus community.
Poeffel noted the joy she gets from photographing someone and helping them open up. She cited pictures of old people as an example.
"I just like spending time with someone and helping them feel good about themselves, helping them see that they're beautiful," she said. "They might not be size zero, they might not have the latest fashion, they might not be the most popular kids in school, but they still have something unique ."
Hannah Schrodt is the editor of the Columbus Telegram. Contact her by email at [email protected]