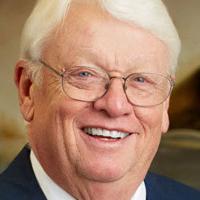 Case Summary: March 13, 2022 | Local
Ward wins Outstanding 50 Year Lawyer Award
Trial attorney and former federal judge T. John Ward of Ward, Smith & Hill in Longview is among five recipients to win the Texas Bar Foundation's 2022 Outstanding 50-Year-Old Lawyer Award.
The Texas Bar Foundation Honor is awarded to attorneys who have practiced law for more than 50 years and who adhere to the highest principles and traditions of the legal profession. The foundation will recognize Ward at its annual dinner in June.
Ward is a former U.S. District Judge for the Eastern District of Texas who handled one of the busiest cases in the federal judiciary. In 12 years on the bench, he has handled over 150 jury trials, presided over hundreds of patent cases, complex commercial cases and class actions, and held over 150 claim building hearings. He has earned a reputation as one of the leading authorities on complex issues surrounding intellectual property.
During his tenure as a federal judge, Ward served on the Judicial Conference Committee on Court Administration and Management, an appointment by Chief Justice of the United States Supreme Court William Rehnquist from 2003 to 2006. He was reappointed in 2009 for a second term by Chief Justice John Roberts. Chief Justice Paul R. Michel of the United States Court of Appeals for the Federal Circuit asked Justice Ward to be part of the National Patent Jury Trial Project.
Since returning to private practice in 2011, Ward has focused on handling patent litigation, commercial litigation, mediations and arbitrations.
Pine Tree teacher earns AP certification
Terri Davis, an English teacher at Pine Tree High School, has been approved as an AP reader for the College Board for the AP Research exam and has been asked to score exams June 3-12.
With this addition to her annual certification, she will be certified to teach AP Research. AP Research is the second course in the AP Capstone sequence. AP Capstone is a program offered by the College Board to provide students with the opportunity to study choice topics through instruction in college-level research methods. Students who complete the course sequence can earn the Capstone degree and are recognized at their graduation ceremony.
TxDOT Employee Wins Statewide Honor
Royce Traylor, Tyler District Maintenance Administrator for the Texas Department of Transportation, was named 2022 RAMP Coordinator of the Year at a recent ceremony in Austin.
The Routine Airport Maintenance Program, or RAMP, was created in 1996 as a grant program to support general maintenance and improvement projects for the state's airport system. RAMP is supported by all 25 TxDOT districts and is available for nearly 300 airports statewide. RAMP Coordinators are designated TXDOT District employees who work with the Aviation Division to provide assistance to airports in their district. The RAMP Coordinator of the Year is determined in two ways – from a coordinator with many years of dedication to a coordinator who has had an outstanding year.
Traylor began his career at TxDOT in 1992. He was promoted to District Maintenance Administrator in 2013 when he began serving as a RAMP co-coordinator, assisting with routine maintenance such as sweeping and cleaning. herbicide application, as well as the maintenance of runways and taxiways. Airports in its district are used for a variety of operations including: recreational flying and skydiving; control of power lines and pipelines; flight training; charter flights; aerial photography and surveying; emergency medical evacuation; and transportation of medical personnel.
Topcat Cos. promotes Downs to COO
East Texas-based Topcat Cos. has named William "Will" R. Downs its new chief operating officer.
Downs brings 41 years of oil and gas industry experience across E&P, A&D, services and operations. He joined Topcat Waste Management Facility as Executive Vice President and Chief Operating Officer in August 2020 and was responsible for the management of the drilling fluids and solid waste disposal site in Waskom.
"I am excited about this newly created role at Topcat Companies," said Downs. "I believe this opportunity will drive performance in any business and aligns with my passion for building high performing teams."
After earning a bachelor's degree in geology from Centenary College in Louisiana, Downs held a variety of personnel and management positions with oil and gas exploration and production companies in the Shreveport area. He also co-founded and served as President of Trinity Disposal and Trucking, a commercial saltwater disposal and transportation company operating in East Texas and North Louisiana.
Topcat Cos. consists of Topcat Well Service, Topcat Oilfield Transport, and Topcat Waste Management, providing service (reconditioning and pick-up and drop-off services), wireline services, saltwater disposal, haulage services, drilling waste disposal and related services.
— Share your news: Submit news about new hires, job changes, promotions, awards, training completions and other news to the Sunday Business Digest before 5 p.m. Wednesday. Email them to [email protected]