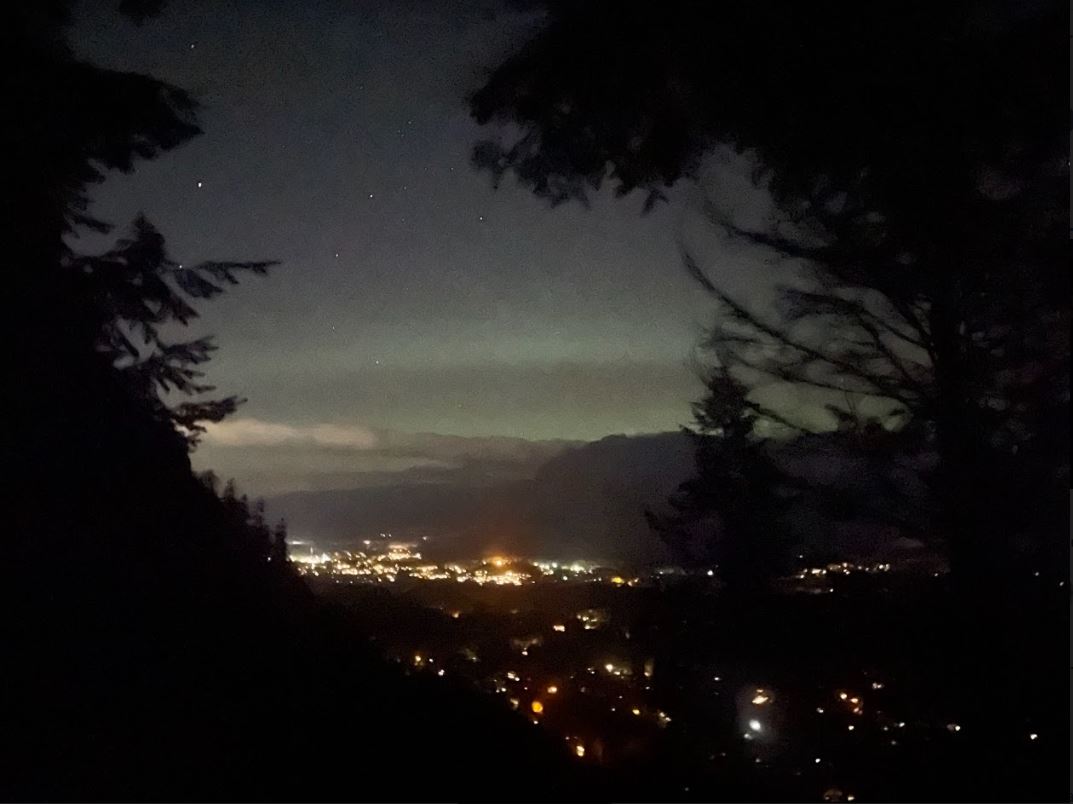 Aurora Chasing with Local North Bend Photographer Travis Wetherbee (Part One)
Living Snoqualmie's most clicked photo on Instagram in 2021 was a photo of the Northern Lights by local photographer, Travis Wetherbee. When we saw that he was going to write about his experience that night, Living Snoqualmie asked him to do it for us. This is the first part of his inspiring story.
I was on a walk with my son when I received a message from my photographer friend Mike Deal. He said there was a strong possibility of a geomagnetic storm that night and wanted to know if I was leaving. I said I would check when I got home.
When I got home and started looking at the data, things looked interesting! I messaged Mike, and soon we were on the phone working on a location. Two places came to mind in the time frame of the predicted storm, Startup Washington or Rattlesnake Ridge in North Bend.
I had hiked Rattlesnake a few times with friends earlier in the spring, but hadn't hiked the starter site in about 18 months. Starting off was the much easier hike by a wide margin. But not knowing the area in daylight makes it more difficult at night, even with adequate lighting. Duvall was an option until I checked the dew point and realized the fog would make it difficult to get a good photo.
While Rattlesnake was the toughest hike, knowing I would have a partner for support and safety made it the best option. Also, I knew this view overlooking Mount Si with the foreground of North Bend below would make a great shot if the storm came around. So I decided that the risk was well worth the reward.
I called my lovely wife and alerted her to what was going on. This is my 4th year chasing the Northern Lights, so she knows the drill and is the most supportive partner ever.
After a quick 20 minute nap, I loaded up the Forester. I took all my gear. My Sony A7III, the new Astro Samyang FE 24mm lens and my Sony FE 24-70mm f2.8 GM lens, lens heaters, tools, tripods, phones, chargers, remotes, equipment for cold weather, headlamps, batteries, flashlights, food and my handgun.
We were to meet at Rattlesnake at 8 p.m. to begin our hike. I headed for McDonald's, as is customary on my hunts. It's the dinner of choice for the Aurora chase! After getting my food, I received a message from Mike that I will be solo for the evening; my partner had a prior obligation that eluded him. This is an acceptable excuse as Lady Aurora makes you drop everything once this alert arrives.
The start of the storm was estimated at 9 p.m. At this point, I have a choice. I can pick a new place that's easier to get in and out of or stick to my plan and make some adjustments. There was no choice to be made. I was going to Rattlesnake no matter what. It was predicted, plus I was already eating my McNuggets and Fries, I couldn't go back now! I figured if something went wrong on the way back I would back off and cancel the trip.
Chasing the Aurora means coming home empty-handed 9 out of 10 times. The other thing that made me want Rattlesnake was the handy dew point near sea level up to 250 feet. I didn't want to waste the occasion and be swept away in the fog.
I consulted Mark Davis of MeteoNorthBend.com and was reassured that Rattlesnake would not be blown away by fog or high winds. It was October, the weather can be nasty, change quickly, and Rattlesnake is the last place you want to be when that happens.
I got to Rattlesnake around 8:41 after stopping to get some extra water. I checked spaceweatherlive.com and noticed that the storm looked promising so I grabbed my gear, did one last check of the essentials and off I went!
At the bottom of the trail, I nearly ran into a group of deer coming from the lake towards the parking lot. I progressed along the lake, heard rustling in the woods and saw more deer returning from the watering hole. It's dark, so I had my headlamp on. I started the trail and took my time to make sure of every step on the way.
My cell reception cut off around the first yaw, but around 1/4 I got a message that a G1 threshold had been reached! This basically means it's about to go down in terms of Aurora Chasing. At this point I am determined and start making leads. In all, it took me exactly 59 minutes to get to the lowest landing closest to town
It took me about 10 minutes to set up and get my first shot. At around 10.30 am the storm reached the threshold of G2, and that's when things got completely crazy! I remember pressing the button on my wired remote and crying because the photon pillars were dancing on Mount Si! When I pictured the shot in my mind, it was never close to what I was able to capture that night!
For two hours I kept pressing the button and took shots that I had only seen in magazines. At 12:21 the cold started to cut through the gear I had with me, so I packed up and started my hike. I left my music on to keep me company, but the speaker was muffled in my backpack.
About a quarter of the way I stop to take a picture of a cool tree that says "you can do it" to Sharpie. That's when the hair on my neck stood on end! I lowered my phone, placed my right hand on the safety of my gun, and slowly drew my handgun. I could hear and feel everything; my sinuses were so clear that I could smell the water from the stream far away.
I leaned left and saw a pair of angry eyes glaring back at me! Adrenaline had taken over by then, and thinking had gone out the window, so instead of taking action, I took cover. I just leaned over the trail and prayed to Thor. I'm an atheist, but at this point, if I call for a care package, it'll be Thor!
Thor didn't show up, so I formulated a plan to calm my heartbeat so I could think things through. As I practiced circular breathing, I straightened up and shouted, "If you're human, tell me now because you have a gun pointed at you!"
No answer.
Then in part II – What was in the bushes? Will Travis make it down the mountain unscathed? Did Thor show up to save the day? Tune in next week to find out!
[Travis Wetherbee runs Last Lite Photography. He is a landscape, nightscape and Rock n Roll photographer. You may spot him at a show or on the side of our local roads around the valley, camera in hand, ready to capture the perfect scene]
Related