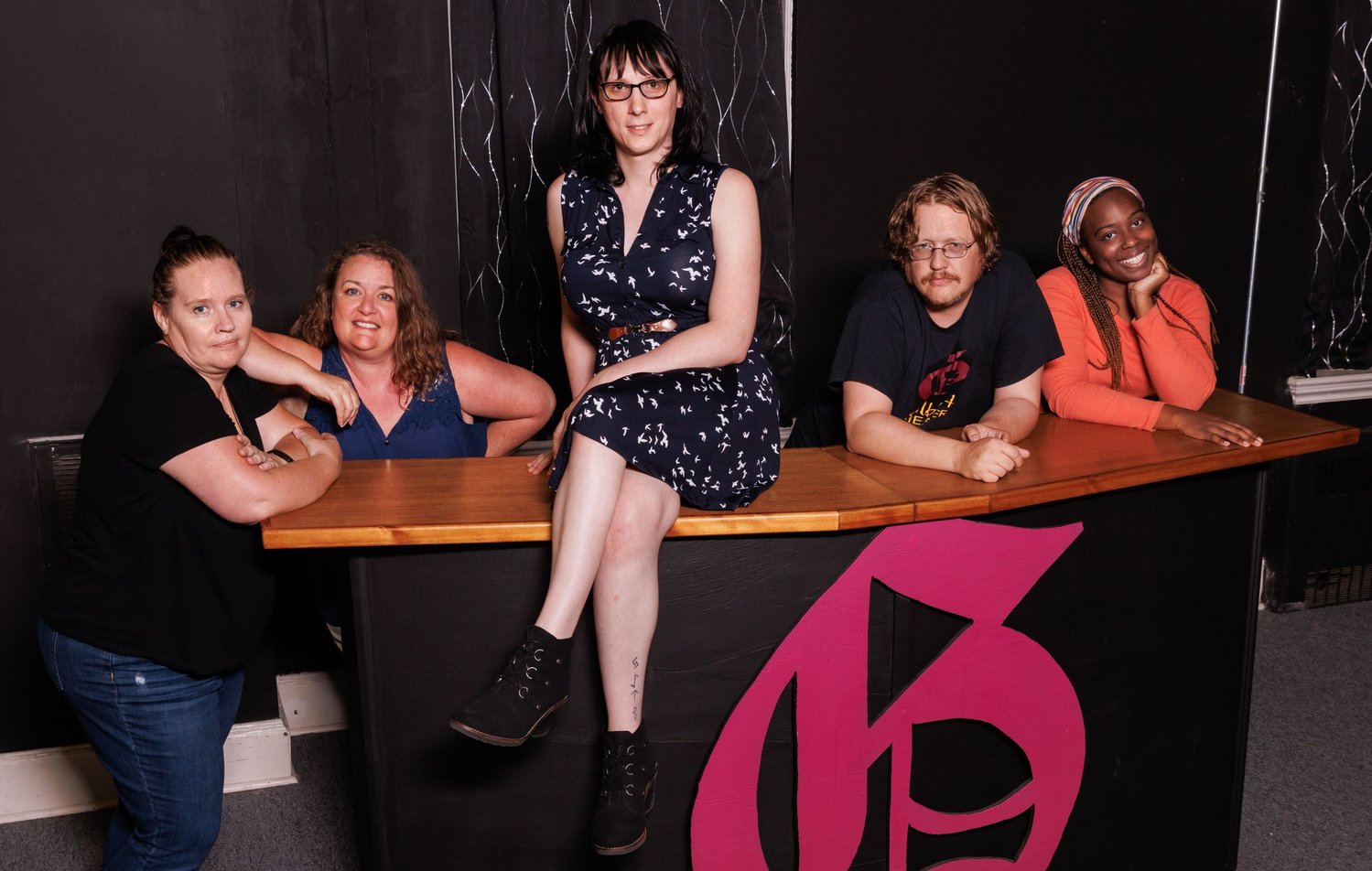 Arts Council approves grants to support museums' performing seasons and programs
A staff report
Theater companies, music groups, museums and other arts programs have recently received grants from the Fayetteville-Cumberland County Arts Council, many to support their 2022-23 performing seasons.
Other nonprofit groups and individual artists received "mini-grants" for art projects through December.
Bob Pinson, interim president and CEO of the Arts Council, said in a press release that the funding was being channeled to a wide range of arts organizations.
"…We are penetrating deeper into previously underserved areas of our community, as evidenced by the many new applicants this year," Pinson said.
In 2021-22, the Arts Council distributed nearly $1 million in grants to nonprofit arts and culture organizations, artists and municipalities in Cumberland County, according to the release.
Theater companies
The Gilbert Theater received a $30,000 grant to support its new season. Shows scheduled for 2022-23 are "The Man Who Shot Liberty Valance", "The Sound of Music", "The Complete Works of William Shakespeare (Abridged)", "All in the Timing" and "[title of show]."
"As we rush into our 30th season, I can only hope that we will be able to secure and expand the legacy left to us by Lynn Pryer," artistic director Lawrence Carlisle III said in a statement. Press.
Pryer was the founder of the Gilbert Theatre.
Sweet Tea Shakespeare received a $27,500 grant for its new season. The funding, according to a press release, includes Green Tea, a Shakespeare company for young people.
The next season of Sweet Tea includes "Richard III," which will take place in October in Raleigh; "20,000 Leagues Under the Sea", scheduled for January in Fayetteville; "Twelfth Night," slated for June in Fayetteville; "Jane Eyre," June in Raleigh; and "A Midsummer Night's Dream", July in Raleigh.
The Cumberland County Public Library has received a $9,000 grant for its 14th annual Cumberland County Storytelling Festival, scheduled for March 1-31.
"Storytelling and music allow listeners of all ages to use their imaginations as they explore, discover and learn," Library Director Faith Phillips said in a press release.
Museums and galleries
Cape Fear Studios received a $7,200 grant to help with a 32nd season of art exhibits that includes the National 2D Competition, the Alpha Romeo Tango Call for Military Artists, and Cabin Fever, among others.
A $3,500 cultural tourism grant will support "Courage and Compassion: The Legacy of the Bielski Brothers," a temporary exhibit at the Airborne & Special Operations Museum.
"On loan from the Florida Holocaust Museum, 'Courage and Compassion' is a multimedia exhibit showcasing the heroic efforts of three brothers who helped save more than 1,200 people from the Nazis during World War II as they took refuge in the forests surrounding Novogrudok, Belarus," says Renee Lane, executive director of the downtown museum, in a press release. "The Bielski brothers led the group in acts of sabotage and defense against the Nazis and through their leadership, the group survived famine, harsh winters, and the threat of the Nazis and their collaborators."
The exhibition is on loan until November 3.
"Given world events in Eastern Europe," Lane says, "it's very timely."
The Cape Fear Museum Historical Complex Foundation has received an $11,000 grant to support its "History LIVE!" to the 1897 Poe House series," which includes historical re-enactments, artist demonstrations, musical performances and live theater. Additionally, the museum received $5,000 for its monthly "History-to-Go" kits, which are free for children visiting the museum.
"The Canada Council grant allows us to provide engaging historical entertainment by incorporating living historians, artists and performers representing the diversity of our community and our collective history. Grants and other donations allow us to offer this programming free or at minimal cost to the public," History LIVE! said coordinator Megan Maxwell in a press release.
Other museum programs supported by the Arts Council grant include "Hallowe'en Revels: Night Tours of the 1897 Poe House," scheduled for October 20-22 and October 27-28; "Trick or Treat at the Poe House," Oct. 29, with a magic show, wagon rides, and carnival games; "Holiday Jubilee", December 4, with the Coventry Carolers and Cross Creek Chordsmen; and a new program, "A Night of Mystery," which will be presented in April 2023 in partnership with Théâtre Gilbert.
Music sets
Cumberland Choral Arts' 31st season, "Connections," has received an $8,000 grant, according to a press release.
"The Arts Council's continued support over 31 years has enabled the CCA to pursue its mission of bringing exceptional choral music to Fayetteville and the surrounding Sandhills area," said CCA President Sandy Cage. , in a press release.
The choral group performs four concerts a year at local venues and extends its reach throughout Cumberland County through its affiliated Campbellton Youth Chorus.
The concerts scheduled for the coming year are "The Sacred Veil", October 15; "The Messiah" with the Fayetteville Symphony Orchestra, December 10; "Lift Every Voice and Sing", in February; "Ear Candy! That's what we're doing," March 24; and "The World Beloved: A Bluegrass Mass," May 20.
An additional grant of $3,500 was awarded to support the Campbellton Youth Chorus program for ages 9-14 in Cumberland County.
The choir gives young singers the opportunity to learn and play music with children from other neighborhoods, schools, traditions and faiths, according to a press release from Cumberland Choral Arts.
Cultural groups
The Culture and Heritage Alliance has received a $12,150 grant to support the sixth annual Africa World Peace Festival, scheduled for September 9-11 in the downtown Cool Spring neighborhood.
In a press release, the group says it celebrates all cultures with a focus on Africa through exhibitions of music, dance, food and art.
The festival will run from 5 p.m. to 11 p.m. on September 9, from 7 a.m. to 11 p.m. on September 10 and from 11 a.m. to 8 p.m. on September 11. A 5km/10km peace run will start at 7 am on September 10 in the city centre; prior registration is required. The festival will include four activity zones: Kids Zone with games, puzzles and a climbing wall; an arts and crafts area with artisan vendors and workshops; the music of local groups and African percussionists; and a food court.
film festival
GroundSwell Pictures received an $11,700 grant to support the seventh annual Indigo Moon Film Fest, scheduled for October 7-9 in historic downtown Fayetteville.
The festival will feature more than 60 films, Q&A sessions with filmmakers and special events, organizers said.
"We are very grateful for the support from the Arts Council, especially this year," said Jan Johnson, co-founder of the festival. "We are planning a great post-pandemic in-person festival, and with the support of the Arts Council, IMFF will be back in-person with the excellent programming and events it has become synonymous with.
Cycle of "mini-grants"
In July, the Arts Council awarded $31,801 in grants to six nonprofit organizations and nine individual artists in Cumberland County for local arts projects scheduled through December.
A total of 43 applications were submitted requesting over $80,000 to fund arts, culture and history projects. A panel of artists chaired by Kenjuana McCray reviewed the applications and recommended the award of 15 grants.
The total of $31,801 is the highest amount awarded in a single round of mini-grants, said Sarah Busman, head of arts education for the Arts Council, in a press release.
"These projects demonstrate the artistic excellence and innovation that we consider two of our core values," Busman said.
The mini-grants program, created in 2019, awards $500 to $3,000 to arts programs and is supported in part by the City of Fayetteville, Cumberland County and the NC Arts Council. The next application deadline is September 15.
Nonprofit mini-grant projects approved in July include:
Fayetteville Dogwood Festival's Fayetteville After Five Summer Concert Series, supporting performance by the July 15 Throwback Collaboration Band.

First Nations Tribal Youth Development Corp. for her Native Arts class at the Stoney Point Recreation Center. The weekly class teaches young people about Aboriginal culture and arts. The grant will help purchase art materials for her drum-making class.

Holy Trinity Episcopal Church's Middleground Art Series, featuring concerts, visual art installations and dance performances.

Latinos United for Progress for the launch of the cultural video series "Historias Latinas en Fayetteville". It will feature cultural stories from the Latino community of Fayetteville.

Lafayette Society of Fayetteville for its annual Lafayette French Music Concert, scheduled for September 8.

ServiceSource for its Bloom art therapy program which helps adults with disabilities develop their creativity and self-esteem.
Approved Contract Artist Mini-Grants include:
All American Jazz Collective, for its August 6 "Jazz and Art Concert" featuring jazz musicians and singers.

Singer Frances Ellerbe, who leads a weekly community choir rehearsal at Fort Bragg's Main Post Chapel which culminates in a performance on Nov. 6.

Author Mary J. Ferguson, who will lead a two-hour poetry reading and class on creative and autobiographical poetry based on her poem "2020."

Angelicia Hicks, a theater artist who will present a reading of original monologues.

Matthew Jackson, a producer who launches the monthly Fayetteville Comedy Night with local comedians.

Tatiana Pless, an actress and theater scholar who will use her connection with the Fayetteville Cumberland Reentry Council to create The Fourth Wall, a theater company for formerly incarcerated people.

Joanice Serrao, a designer who will use her "Coal Miners" fashion collection to teach a six-course community sewing course.

Meredith Talian, a visual artist who produces "The Fayetteville Little Art Box", a free mini-gallery that mimics the Little Free Library program.

Ayana Washington, who hosted Book Black Women's "The Blueprint" concert on August 13.
Key words
Fayetteville,

Fayetteville-Cumberland County Arts Council,

subsidies,

Gilbert Theater,

Shakespeare sweet tea,

Cumberland County Public Library,

Cape Fear Studios,

Airborne and Special Operations Museum,

Cape Fear Historical Complex Museum,

Cumberland Choral Arts,

Culture and Heritage Alliance