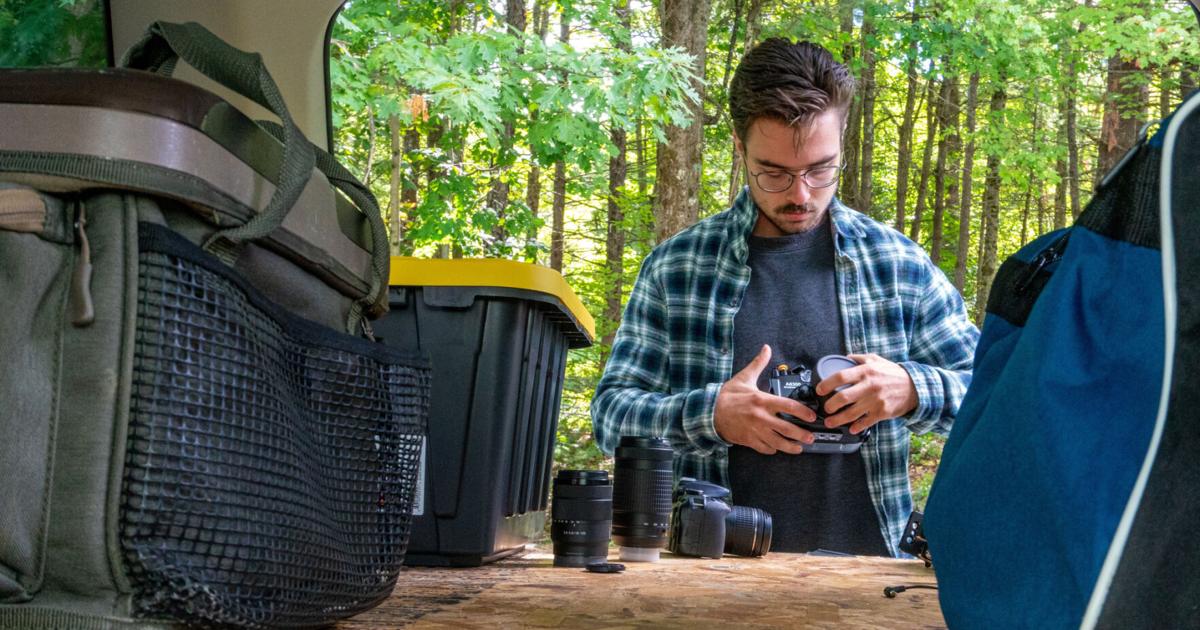 A Fisherman from a Different Angle: A University Student's Freelance Photography Project Goes Deep | Way of life
PULASKI — A University of Albany documentary studies student has combined his love of the outdoors and photography to take in unusual sights during the annual salmon and trout races in these areas.
Zachary S. Canaperi of Averill Park in Rensselaer County arrived in Pulaski on September 29 with a load of photographic equipment in an effort to capture underwater footage of the annual races. He knows well this annual phenomenon which attracts thousands of fishermen to the region each year.
Mature chinook and coho salmon returning to the Salmon River generally begin to leave the mouth of the Salmon River in late August. Other strains of salmon begin entering the Salmon River in late October and continue through spring. Brown trout enter the river from mid-September to mid-November.
"This whole project is about the fish," Canaperi said Sept. 30, a day before his two-day project ended. "It's a world-class fishery, and I thought showing it from a different perspective could be powerful."
Mr. Canaperi can also offer a fresh perspective as this is his first visit to Pulaski. But he knew of its reputation for fishing and the annual fall runs of salmon and trout.
"I know most of the great fishing spots in New York from my research and I've been fishing for so long," he said. "But I've never been here. I am a fisherman and outdoor enthusiast and have loved nature since I was little.
Mr Canaperi learned while cruising along the Salmon River, diving into his camera, protected by a budget underwater housing he found online.
"The one I found was around $200, kind of a chance mark," he said. "But it has worked so far. Hopefully there are no leaks.
While in the Pulaski, Mr. Canaperi, a University of Albany senior, stayed at the Deer Creek Motel.
"My plan initially was to sleep in the back of my 2008 Grand Cherokee," he said. "However, I figured it was better than that. It would be very difficult to keep my electronics charged and all my gear organized. When I called Deer Creek, there were only two nights available, a Thursday and a Friday, so I jumped on it.
The project, he said, is not for college credit. In addition to focusing on underwater shots of salmon and trout, Mr. Canaperi took several photos reflecting the popularity of fishing in the Pulaski area.
"It's mostly something I wanted to do on my own," he said. "I could definitely apply that to some courses in different ways, like my Narrative Journalism course."
In Albany, Mr. Canaperi is taking six courses this semester.
"Before going to Pulaski, I made sure to do my schoolwork ahead of time so I didn't miss any due dates while I was away," he said. "A few classes that I had to miss because I left on a Thursday. I emailed my teachers ahead of time and they were all very understanding, especially because what I was doing was related to my curriculum.
In the early days of his project, Mr. Canaperi experienced some setbacks.
"There are fish in there, but they're definitely hard to film," he said. "The water is murky. It's moving fast. I use an underwater housing and when you're in the rough current the bubbles kind of get in front of the lens and block everything out. I'm just working on all of this.
For his underwater shots, Mr. Canaperi worked in water shallow enough to be able to bend down and dive into his camera.
"There's a screen on my camera, but once underwater it's pretty hard to see it," he said. "If you know where the fish is, you kind of plan your composition where you want it to be in the frame."
Another issue was connecting to the web.
"One issue I encountered shortly after arriving was that there was no Wi-Fi or service at the motel I was staying at," Mr. Canaperi said. "I had to go to Dunkin' Donuts in downtown Pulaski to hand in homework and keep in touch with people."
Mr. Canaperi, originally from Bridgewater, Conn., moved to the Albany area when he was 7 years old. The Hudson Valley Community College grad went to a few colleges to get a bachelor's degree, before he discovered the right fit for his career. aspirations at the University of Albany, dropping his film studies at Binghamton University. "I studied abstract films and didn't get much out of them."
He also spent time working in landscaping and construction companies after attending Hudson Valley CC.
"I finally decided to go back to school and finish my studies at the University of Albany," he said. "So far, I really like it."